KMG Conveyor Systems Innovation and Development
KMG Systems Limited is spread across two sites based in the UK close to the south Cambridgeshire and Bedfordshire border totalling over 20,000 square metres. We have been at the forefront of designing and manufacturing highly innovative, reliable and hygienic food conveying systems for over 50 years.
The majority of our sales are conducted globally with the world's largest food producers and our machines can be found in over 120 countries. Employing around 190 staff we specialize in bespoke solutions to the food industry broadly based around our electromagnetic or EMC2 vibratory conveyors and various combinations of ancillary equipment including support structures, elevators, and packing machines. Our sales and project engineering teams come from strong engineering and technical backgrounds ensuring a seamless transition from concept to execution.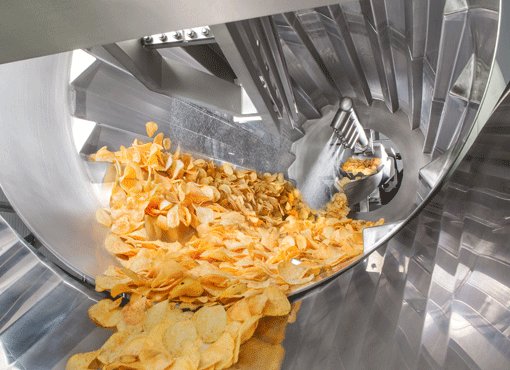 Energy Efficiency
KMG conveyors are used in food transportation and storage, product seasoning, mixing and blending systems in both harsh and ambient conditions across the food industry. Importantly with energy costs rising our new generation of electro-magnetic controllers are proven to provide more power with higher efficiency and improved power factor compared to our competitors. Using advanced manufacturing techniques our latest MA900 series electro-magnets offer 25% efficiency gains with 20% more deliverable power further reducing running costs.
Most typically our conveying systems will be found transporting food to multiple outlets of weighing and packing stations . Feed to each packing station is controlled by using a modular vibratory conveying system that ensures each outlet is continuously satisfied without effecting others in the line while simultaneously allowing storage of product in the system to allow for packing material reel changes.
In the process of delivering our systems our Engineering & Design team work to produce optimised equipment designs, line layouts and process flows – integrating all interconnecting access walkways, support steelwork and utility pipework & supports. Safety, hygiene, sanitation and cost control are at the forefront of our engineering design considerations.
Our in-house automation team designs and tests the SCADA software that powers these systems together with our in-house electrical engineering team that design, build and test the main system control hardware.
Our project engineering team will manage the successful implementation of the full scope of the project. This also involves the supervision or provision of turnkey installation and full wet and dry commissioning of our equipment on the clients site. Due to the pandemic we have developed safe remote working alternatives to presence on site saving on flight and hotel costs. We pride ourselves on meeting our delivery obligations on time, time and again.
Our after market service team provide worldwide service expertise to ensure our clients production keeps producing and to further support our equipment and installations we hold an extensive stock of critical spares here in the UK. These can be shipped rapidly worldwide to ensure minimum downtime.
In summary we value our clients and our reputation; our customers rely on us to transport their products safely from process to packaging, using machines that are easy to clean and renowned for their excellent performance, durability and low energy usage – providing good value for money and superb reliability.