Choose KMG Vibratory Conveyors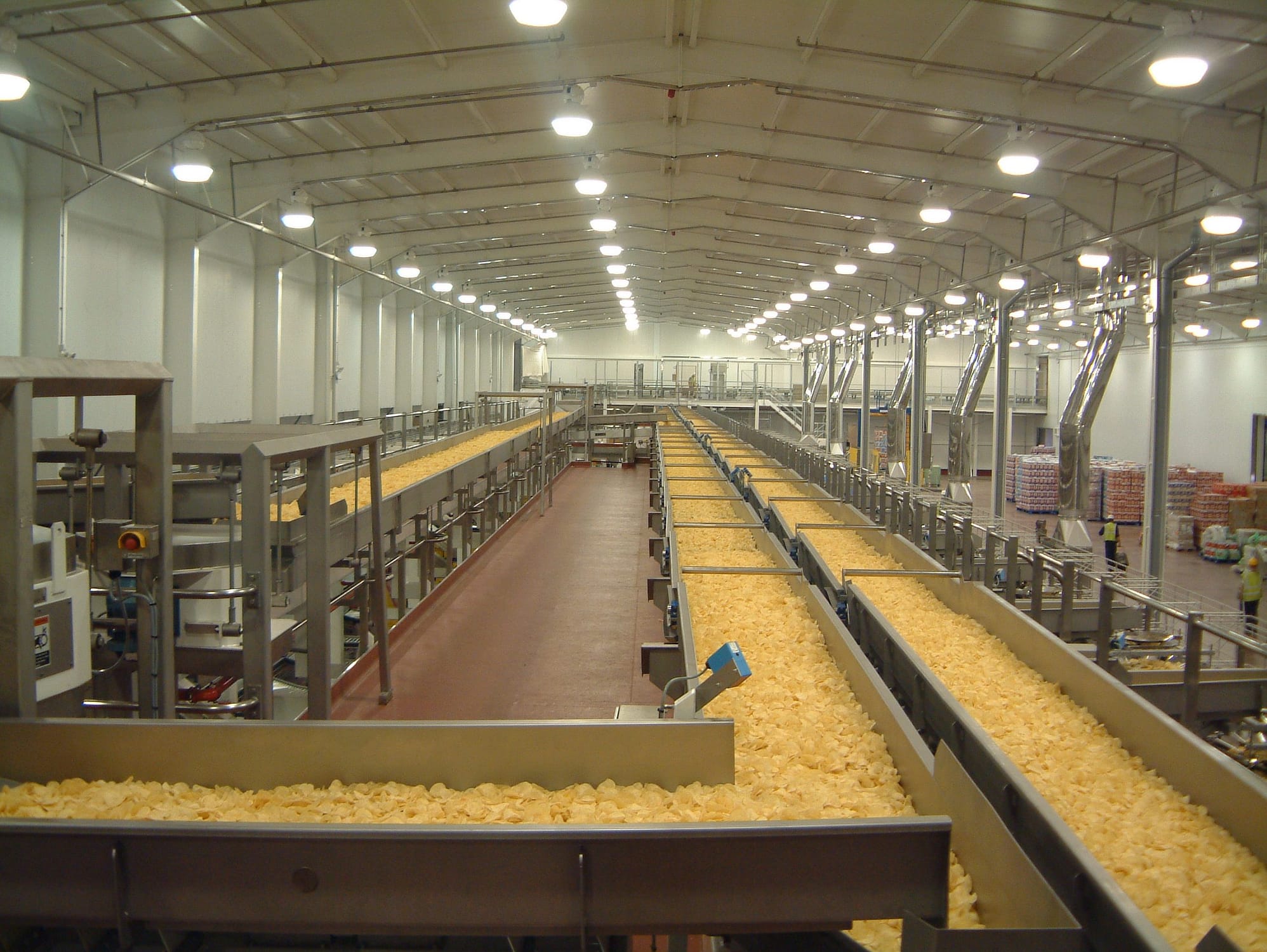 We consider our vibratory conveyors to be the building block which we use to build our seasoning and distribution systems. These systems safely and hygienically transport base product from process to seasoning and then on to packaging. We also offer special purpose vibratory conveyors which can be used for screening, dewatering, laning or fines removal Our integrated systems are renowned for excellent performance and our project management team liaise with you to ensure that the system which we deliver perfectly matches your needs and expectation. Our vibratory conveyors are either electro-magnetically or mechanically driven, depending on the base product characteristics and our experienced sales team will be able to offer the best system for your unique requirements.
All KMG equipment is designed and manufactured at our premises in the UK. The pan is manufactured from stainless steel, usually 304 grade although we can offer 316 for special products. The base and supports would be made either from mild steel (we would recommend this for packing areas and anywhere that isn't washed down) or stainless steel which is ideal for seasoning areas which are frequently washed down. The vibratory conveyors run at natural frequency which means that they use less energy than a traditional lightbulb.
Our machines are designed to meet the strict hygiene standards required by the snacks, cereals and petfood industries. They are also robust enough to last for decades with minimal maintenance and service required. We manufacture most of our spares in house so we can guarantee to supply you promptly.
In order to manufacture our vibratory conveyors we start with our team of expert engineering designers who develop a details 3D model, taking into account the 4 pillars of the KMG Design Strategy. After receiving customer approval, the engineering designer issues detailed drawings to the workshop. KMG has invested in a wide range of capital equipment including sheet lasers, tube laser, MIG, TIG and laser welding sets, press brakes, CNC lathe and CNC mill. Sheet steel is laser cut and folded, and then welded together with in-house machined components to produce a completed machine. Our rigorous quality control checks mean all of our vibratory conveyors leave KMG in excellent condition. We like to keep control of the manufacturing process so that we can ensure on time delivery of perfect vibratory conveyors.
Our experienced designers know what to look for when designing our equipment. We take into account the bulk density of the conveyed product plus any special characteristic – is it sticky, dusty, dense, friable or brittle? We have the experience to incorporate ATEX and our in house control cabinets are all appropriately IP rated. We also consider what happens to the product upstream and downstream from our system – will you require in-line storage? If you are interested in storage, have a look at our blog. Our in house automation software will integrate seamlessly with your process or packing equipment to ensure a smooth flow through your factory.
KMG Systems offer a range of vibratory conveyors, including Gated Vibratory Conveyors, Proportioning Control Vibratory Conveyors, and Flavour Feed Vibratory Conveyors. When you choose KMG vibratory conveyors, you can be confident that you are getting a high-quality, reliable product. We are proud that our vibratory conveyor manufacture is all done in house. We design and manufacture all our systems in the UK and meet the highest standards of quality and safety. Our vibratory conveyors are durable, reliable, and built to last.
KMG vibratory conveyors provide a safe and hygienic way to distribute large quantities of product through your snack manufacturing process. Our systems help to increase your productivity, as well as the quality of your overall product. We design our vibratory conveyors to be low energy, silent in operation, and cost-effective.
KMG is the global leader in the design and manufacture of conveying and seasoning systems for the food industry. We have 50 years of experience and the best engineers in the industry.