Vibrating conveyor systems comprise a number of vibratory conveyors which are designed to collect product from a process, feed into each other and then to a downstream process. Vibrating Conveyor Systems can either be used as part of a process, for example a seasoning system or to transfer product to a number of weigher/bagmakers, for example a packing system, or to transport product across the factory to a different process, a transfer system.
What all these systems have in common is that they are carefully designed so that all the different machines work seamlessly together and that the controls and automation software are appropriate for the task and are fully integrated with the rest of your factory software. At KMG we write all our automation software in house and employ own own commissioning engineers. Let's look at these three different types of vibrating conveyor systems in more detail.
Seasoning Systems
There are two main types of seasoning system and KMG design and manufacture both types. You can choose from a KMG kitchen seasoning system which will usually be sited immediately after your process, or a KMG on machine seasoning system which will feed one or more seasoning drums directly above the packaging machines.
Both types of seasoning systems will comprise a number of components, some of which will be vibrating conveyors.
At KMG we also design and build the steelwork which supports the seasoning system as well as designing and integrating the controls.
We know that you consider repeatability and accuracy to be critical to your product seasoning and for many years, KMG has been at the forefront of seasoning system developments.
Our Seasoning systems are designed to be robust and reliable with recipe based controlled, featuring industry leading process capability. This ensures that you pack first quality product efficiently and cost effectively.
Distribution Systems
At KMG we group our distribution conveyors into modules to form a system that transports and distributes product to packing stations. We would typically convey crisps, snack food, cereals, petfood and confectionery.
Our distribution systems can be designed to offer in-line storage which guarantees first-in-first-out packing. Our state-of-the-art software will line balance to match process capacity to packaging capability in real time. We design the controls and develop the automation software in house and supply our own team of commissioning engineers to get you up and running.
The KMG electromagnetic vibratory conveyor forms the backbone of our vibrating conveyor systems, offering ultra low energy usage, gentle product handing and hygienic and fully welded designs.
We offer either a gated or a gateless distribution system. Our patented gateless, Autoflow plus system features minimal product drops and no moving parts. The controlled feed directs product towards or away from the machine outlet in response to packing demand. It is and extremely efficient distribution system as there is no requirement for compressed air. It is suitable either for distribution of packets or for seasoned product.
KMG gated vibrating conveyor systems include a simple pneumatically operated gate which is part of the actual conveyor. The gate is balanced which means it is actuated with minimal force and therefore does not require guarding. The entire system features ultra-low running and maintenance costs. KMG vibrating conveyor systems will provide food manufacturers with solid reliable capital equipment that will last for years and provide long term low-cost running.
We know that gentle product handling is critical to your operation so we ensure product-on-product discharge to minimise breakage.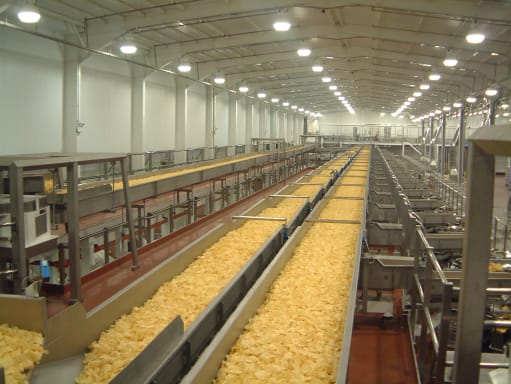 Transfer System
Vibrating conveyor systems are ideal for transferring product from one part of your factory to another, for example to connect up different processes or to reach seasonal packing systems.