KMG Systems Innovation and Development
New products require innovation and we understand that at KMG. Come to our exceptional test facilities with your NPD for both new liquid coatings and dry seasoning! The KMG Liquid Spray Unit is seamlessly integrated with our patented Flow Weigher™, flavour drum system and bespoke software giving you complete flexibility and control.
KMG = NPD
We offer dry seasoning and oiling capability. Bring your crackers, biscuits, extruded product, bakes and snacks to us for trials!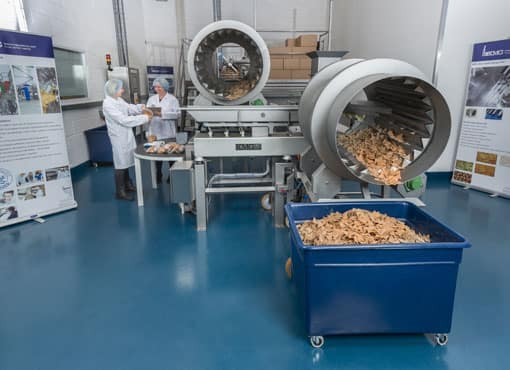 KMG LSU Liquid Spray Unit
Continuous non-intrusive analysis for closed loop ingredient control for high value recipes. Repeatability and accuracy of flavouring are essential to good product flavour and KMG is at the forefront of seasoning developments. Capable of meeting the most demanding levels of performance in terms of accuracy, coverage, consistency and efficiency.
Integrated Dry & Liquid OMS Seasoning
The KMG LSU has been developed by our team of expert engineers as a spray system capable of meeting the most demanding levels of performance that our customers expect. Ideal for popcorn, bakes, cereal, crackers, crisps, chips and snacks.