We pride ourselves on our robust reliable equipment and we like to train your team to maintain your own equipment. We guarantee to maintain spares cover for decades so that you have everything you need to service your own equipment when it suits you. In addition, KMG electromagnetic vibratory conveyors are so robustly designed that they need little maintenance. Our unique controller will even tell you what is needed and what to do.
We routinely come across KMG vibratory conveyors which are still running in good condition more than 30 years after we suppled them. The expectation from across the business, from directors to project engineers, is that your equipment should run for decades and that is is straightforward for you to maintain yourself.
However, if you require support services then we are here for you. We know that you, your colleagues and your site are unique. The principle behind our the support we offer is simple: tell us how we can help you.
Mechanical Service and Maintenance
Our team consists of highly qualified and experienced engineers who look at your system as a whole and recommend what service and maintenance is required. We have a team of expert engineers able to troubleshoot and resolve any problems you may have, or changes you'd like to make. When not on site performing service work, our service engineers work in our factory on new equipment. This means that they are experienced in the operation of all KMG equipment. We provide support for all aspects of mechanical service and maintenance
Controls Service and Maintenance
At KMG we provide support for all aspects of controls service and maintenance including instrumentation, electrical power and control, PLC logic and SCADA overview and control. As all our control systems are designed in house and our automation software is also coded in house, we have a vast wealth of experience and support available. Our automation engineers are ready to offer remote support and will also travel to site to update software, provide further training or develop HMIs.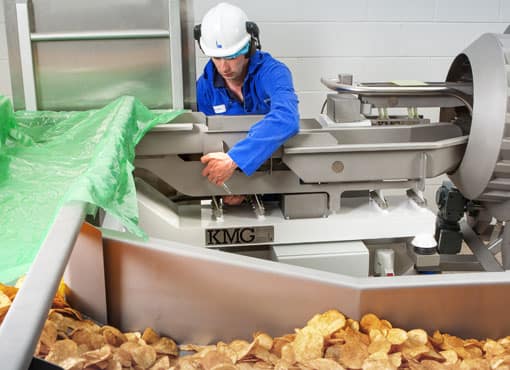 Ongoing Care
Spares Management: We can check your KMG spares holding and confirm any missing recommended spares, however we would expect that you'd be supplied with a list of recommended spares before commissioning. Extended Warranties can be offered to cover your critical components but our standard warranty is 5 years. System Upgrades and Enhancements: We can advise which of our latest designs and control systems can offer a significant improvement to your production line
Support Services
Service Support: Our engineers have details of the equipment and control systems installed at your site, so they can provide prompt and accurate technical support and service and maintenance. We can send a team to your plant if required to provide the support you need. Machine Tuning and Performance Optimisation: Our highly skilled engineers service your equipment to achieve the optimum performance levels.