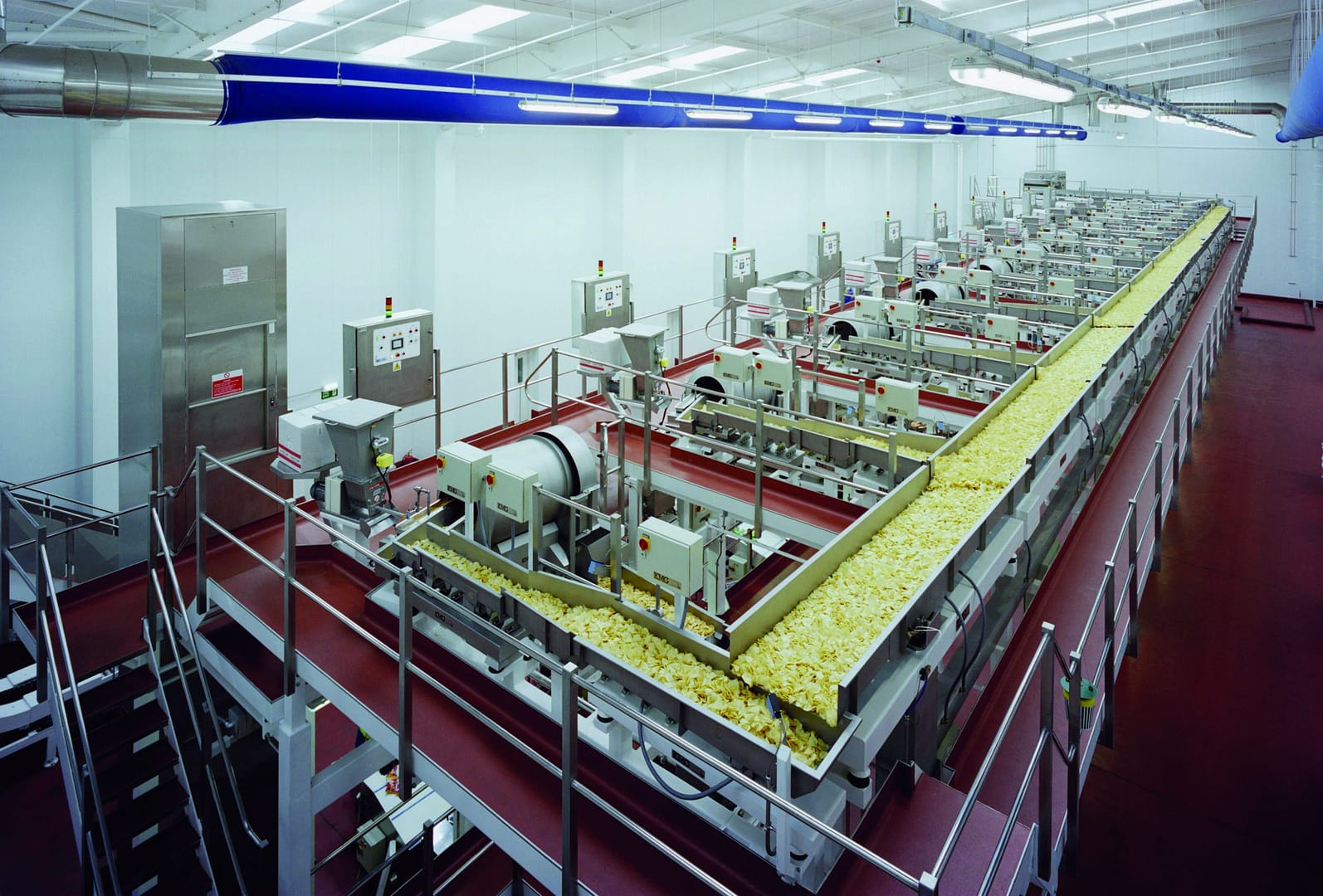 On Machine Seasoning
KMG On Machine Seasoning System (OMS) offers producers flexibility where multiple outlets are fed with product and seasoned directly above the packaging machine. Each On Machine Seasoning System (OMS) is fully gravimetric and can be cleaned in less than 20 minutes whilst to other stations production is unaffected.
KMG first pioneered On Machine Seasoning system (OMS) in the early 1980's and has since defined the standard for seasoning above the packing machine. The principles of operation achieve world class seasoning standards by using tried and tested equipment from our portfolio. Fed on demand by KMG distribution systems, batches of product are converted into a continuous stream, the flow is automatically measured and seasoning proportioned onto the product.  Our On Machine Seasoning system (OMS) provides unparalleled accuracy and reliability.
Contact Us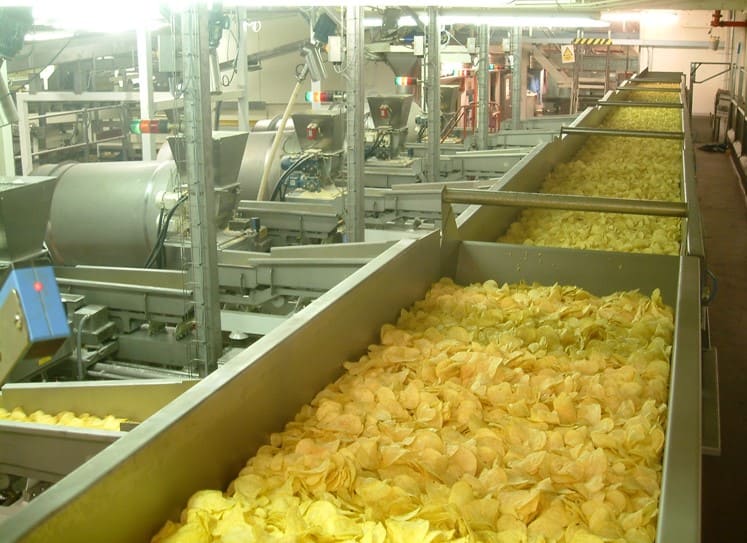 Features
Unique enhanced control of seasoning to full capability at low packing rates
Automatic adjustment of seasoning system to match packing rate
Automatic regulation of flow rate to minimise stop/start of drum.
Base product in-flight weight measurement, using KMG's patented Flow Weigher, combined with Volumetric or Gravimetric (Loss-in-weight) seasoning application.
Seasoning applied by the KMG patented  PDU Feeder with its accurate delivery and leak free design
Choice of Siemens or Allen Bradley controls, with the option of system integration including Wonderware and SCADA.
Both dry and liquid seasoning can be incorporated in the same drum.
On Machine Seasoning Machines
Proportioning Control Vibratory Conveyor
The control of feed from process to multiple seasoning or packing lines using a single vibratory conveyor with proportioning split from 0-100%.
FlowWeigherTM
The KMG FlowWeigherTM, a vibratory flow rate measuring system, is engineered to address precision and accuracy to ensure product quality and optimise manufacturing processes with ground-breaking technology. It stands out as the only system that integrates a load cell directly beneath the vibratory tray that holds the product. This patented innovation enables the real-time measurement of the flow rate of even very light materials with exceptional accuracy.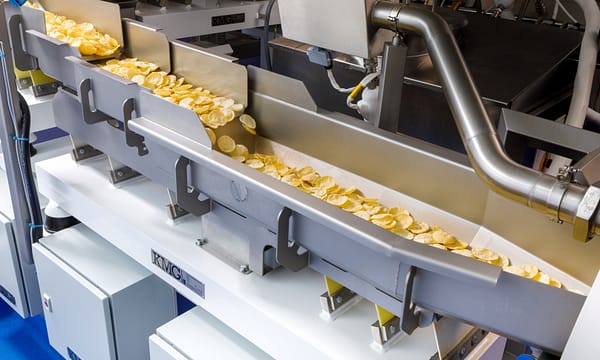 KMG Loss in Weight (LIW)
KMG Loss in Weight (LIW) as part of a seasoning application system ensures the correct amount of seasoning is always applied.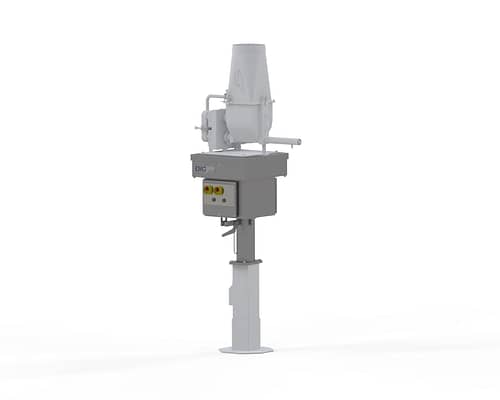 Powder Dosing Unit
Our Patented Powder Dosing Unit comes with all the features that you would expect from KMG. Its designed to be robust, reliable, easy to use and hygienic. Suitable for a wide range of seasonings, the KMG Powder Dosing Unit is designed with customer product, process and expectations in mind. It works seamlessly with our Loss in Weight, patented FlowWeigher and Vacuum Lift system to form the backbone of our world class seasoning system.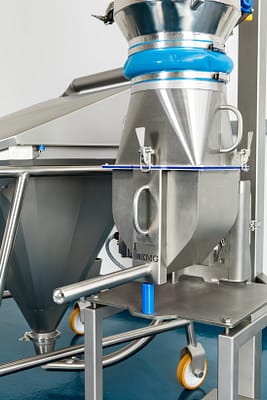 Flavour Feed Vibratory Conveyor
The Flavour Feed Vibratory Conveyor, also known as the scarf feeder, is an extremely important component in the realm of snack food production. This unassuming yet indispensable machine plays a critical role in conveying seasoning or salt powder into the flavour drum, ensuring consistent and precise flavour application. This machine efficiently contributes to the production of perfectly seasoned snacks and it's exactly what you need to make your snacks taste perfect.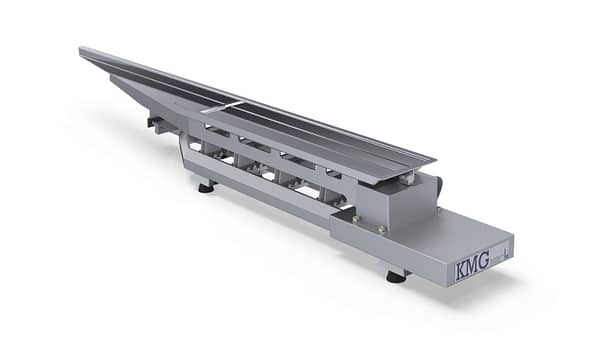 Flavour Drum
Flavour- one crucial aspect of the complex world of snack food production. It's no secret that the seasoning process is key to creating products that tantalise taste buds. From potato chips to extruded snacks and tortilla chips, the KMG seasoning flavour drums are engineered with a singular focus: to elevate product quality and consistency through precise seasoning.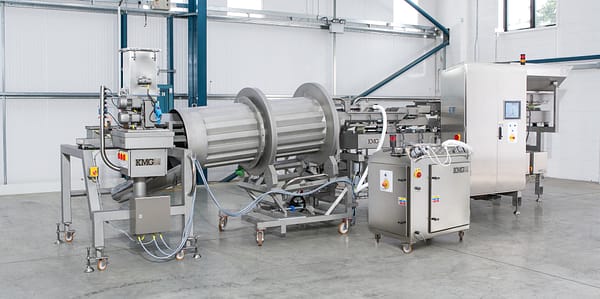 Flavour Vacuum Lift (VLS)
In the world of snack food manufacturing, precision isn't just an option; it's an absolute necessity. One vital yet often missed component that ensures this precision is the Flavour Vacuum Lift (VLS) by KMG. This remarkable piece of machinery is designed to convey batches of powders efficiently and hygienically within ducting, making it a cornerstone of snack food production.
Air Filtration Unit (AFU)
An often underestimated yet crucial component that plays a significant role in maintaining product quality and ensuring the well-being of employees is the Air Filtration Unit (AFU). Specifically engineered by KMG, the Air Filtration Unit (AFU) represents an indispensable dust containment system meticulously designed to operate seamlessly alongside a seasoning fill hopper or the KMG Vacuum Lift System (VLS) to ensure precision and hygiene.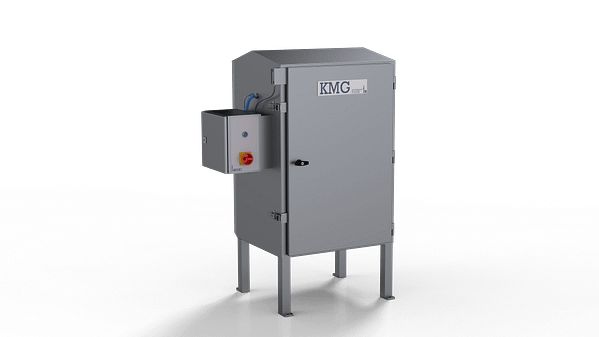 Smart Seasoning Validation
In the food manufacturing industry, ensuring the safety and quality of products is paramount, especially when it comes to allergen risks. Smart seasoning validation is a cutting-edge solution designed to prevent operators from inadvertently filling a seasoning hopper with the wrong seasoning, thereby minimising the potential for allergen cross-contamination. This blog post delves into the features and benefits of smart seasoning validation, highlighting its crucial role in maintaining allergen control and safeguarding product integrity.