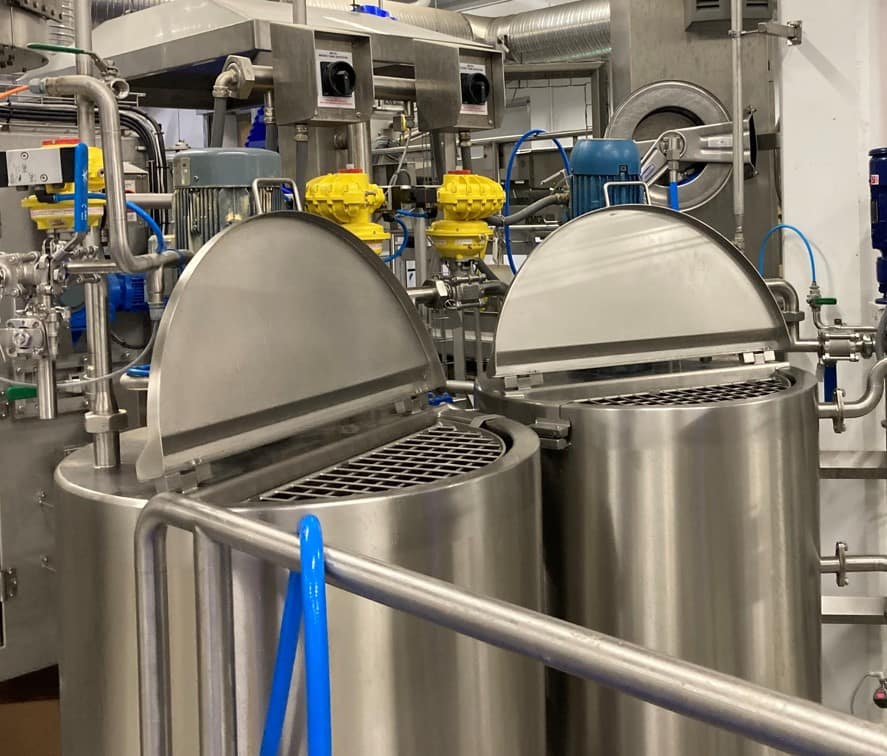 Slurry Coating
Extruded snacks may need to be heavily seasoned for deep flavour absorption into the product. Where separate oil and dry application systems can't be used, KMG slurry coating systems may be the alternative.
KMG Slurry Coating Systems pump a pre-mix of oil and dry seasoning into the flavour drum via nozzles and a lance. The application can be purely volumetric or controlled via a weight signal from the KMG Flow Weigher. A pre-mix tank prepares a batch of oil and dry seasoning and then pumps it to the holding tank. The slurry is then applied from the holding tank whilst another batch is prepared ready for transfer.
Contact Us
Features
Single or twin tank.
Various tank sizes options.
Heated tanks.
Optional access platforms.
Full stainless steel construction.
Fully manual to fully automatic process.
Volumetric or gravimetric signal-controlled set point.
Standalone or system integrated.
Slurry Coating Machines
Proportioning Control Vibratory Conveyor
The control of feed from process to multiple seasoning or packing lines using a single vibratory conveyor with proportioning split from 0-100%.
FlowWeigherTM
The KMG FlowWeigherTM, a vibratory flow rate measuring system, is engineered to address precision and accuracy to ensure product quality and optimise manufacturing processes with ground-breaking technology. It stands out as the only system that integrates a load cell directly beneath the vibratory tray that holds the product. This patented innovation enables the real-time measurement of the flow rate of even very light materials with exceptional accuracy.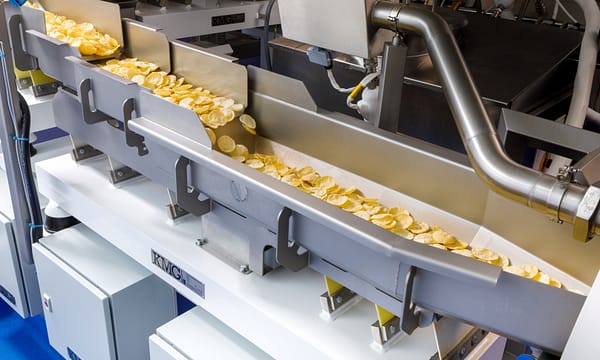 Flavour Drum
Flavour- one crucial aspect of the complex world of snack food production. It's no secret that the seasoning process is key to creating products that tantalise taste buds. From potato chips to extruded snacks and tortilla chips, the KMG seasoning flavour drums are engineered with a singular focus: to elevate product quality and consistency through precise seasoning.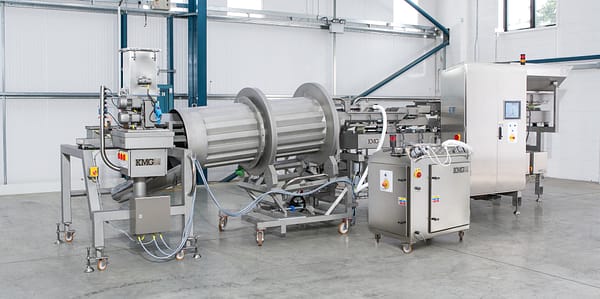 Slurry Systems
In the manufacturing process of extruded snacks, achieving deep flavour absorption can be essential to creating a product that delights consumers' taste buds. One effective method to ensure optimal seasoning is through the use of slurry systems. By combining oil and dry seasoning in a pre-mix and pumping it into the flavour drum, slurry systems deliver consistent and controlled flavour distribution, resulting in a truly satisfying snacking experience.
Conditioning Conveyors
Conditioning Conveyors play a pivotal role in providing precision and efficiency, ensuring that slurry-coated products receive the necessary treatment to enhance their flavour and quality. These conveyors are designed to provide the perfect environment for seasoning and oil to fully absorb into the base product, preventing unwanted residue build-up in downstream equipment and packaging.
Smart Seasoning Validation
In the food manufacturing industry, ensuring the safety and quality of products is paramount, especially when it comes to allergen risks. Smart seasoning validation is a cutting-edge solution designed to prevent operators from inadvertently filling a seasoning hopper with the wrong seasoning, thereby minimising the potential for allergen cross-contamination. This blog post delves into the features and benefits of smart seasoning validation, highlighting its crucial role in maintaining allergen control and safeguarding product integrity.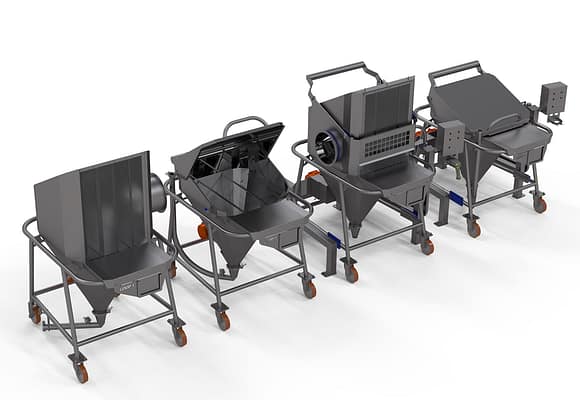 Powder Dosing Unit
Our Patented Powder Dosing Unit comes with all the features that you would expect from KMG. Its designed to be robust, reliable, easy to use and hygienic. Suitable for a wide range of seasonings, the KMG Powder Dosing Unit is designed with customer product, process and expectations in mind. It works seamlessly with our Loss in Weight, patented FlowWeigher and Vacuum Lift system to form the backbone of our world class seasoning system.