Gated Vibratory Conveyors
KMG Gated vibratory conveyors are fitted with balanced gates which mean there is no need for guarding. The gates require only the smallest amount of pressure to open/close. Avoiding the need for guarding means that they are easy to keep clean. We know that hygiene is a priority for you and we always keep the principles of hygiene, maintenance, reliability and access in mind when we are producing our designs.
Our gated vibratory conveyors are either mechanically actuated or electro-magnetically driven for ultra low energy usage.
The gates are controlled by our in-house automation software and can be either driven by timers or photocells. Part of our control philosophy is to ensure that product discharges onto product in order to maximise careful handling.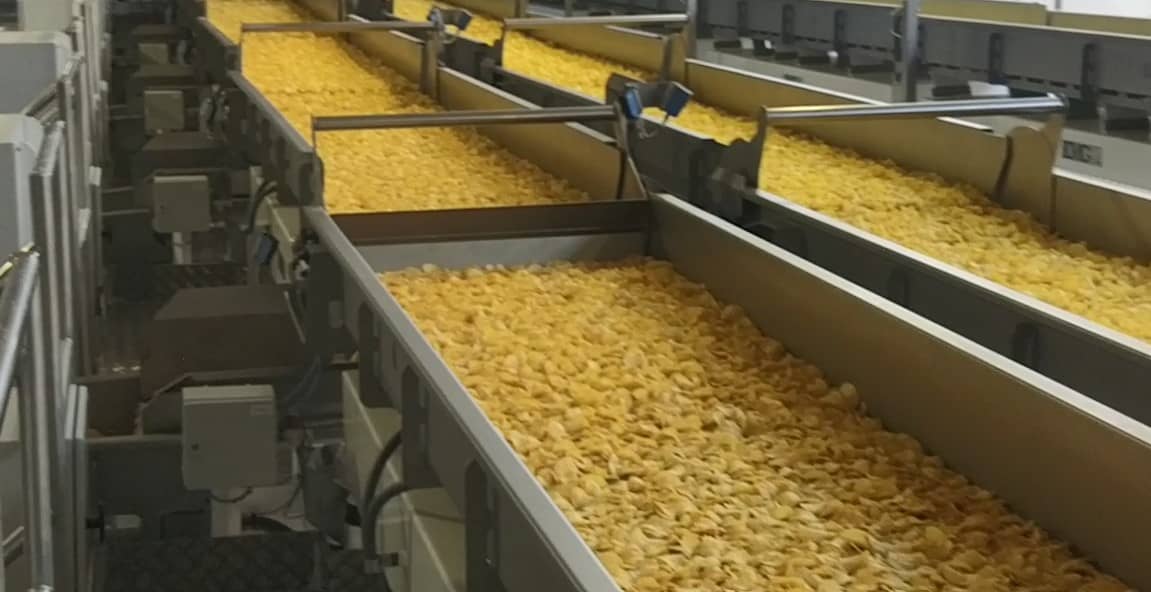 The KMG Gated Vibratory Conveyor stands out for its exceptional material flow control capabilities. By incorporating balanced gates along the run of conveyors, our system enables precise regulation of material discharge. This feature is particularly advantageous for industries dealing with multiple products or batch processing, where accurate segregation and metering are crucial. With our conveyor, you gain unmatched control over the flow rate, ensuring seamless integration into your production line and enhanced overall productivity.
At KMG Systems, we understand that versatility is key to meeting diverse industry requirements. Our Gated Vibratory Conveyor boasts a modular design, allowing for easy customisation and adaptation to various applications. Whatever you're handling, our conveyor can be tailored to suit your specific needs. The modular construction also simplifies installation and maintenance, minimising downtime and maximising efficiency.
Efficient material handling is the cornerstone of any successful operation. With the KMG Gated Vibratory Conveyor, gentle handling is guaranteed. Our system utilises controlled vibration technology to ensure a smooth and even transfer of materials, reducing the risk of damage or degradation. By minimising product loss and maintaining product integrity, our conveyor helps you achieve higher yields and deliver consistent quality.
To empower our customers with seamless operations, the KMG Gated Vibratory Conveyor is equipped with an advanced control system. This intuitive interface allows for easy adjustment of parameters such as gate positions, vibration intensity, and conveying speed. Real-time monitoring and diagnostics further enhance operational efficiency, enabling proactive maintenance and troubleshooting. The user-friendly control system ensures smooth integration with existing automation systems, facilitating overall process optimisation and reducing the need for manual intervention.