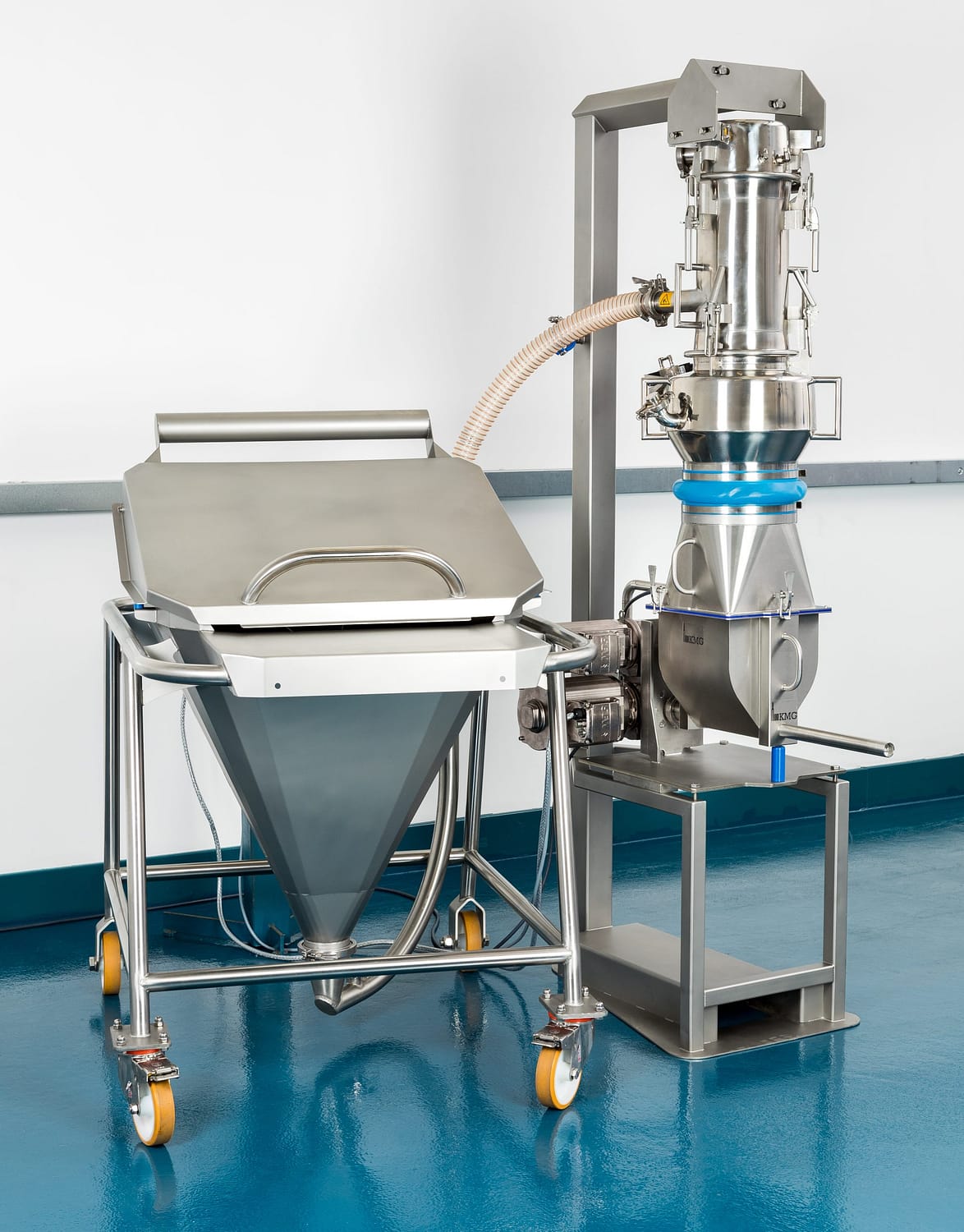 Flavour Vacuum Lift (VLS)
The KMG Flavour Vacuum Lift (VLS) is designed to convey batches of powders in a pipe system from a bulk hopper or tipping station to a metering powder dispenser.
Features
The KMG Flavour Vacuum Lift (VLS) is Safe, silent and hygienic.
Quick change parts and easily stripped down by a single operator
Contact parts Stainless steel or food grade plastic
No high level motor and minimal moving parts
Works in conjunction with KMG Loss in Weight
Synchronises perfectly with the KMG PDU Flavour feeder
Bulk hopper available with KMG Air Filtration Unit
Minimal guarding because there is no moving agitator
All seasoning/product is removed from the KMG Flavour Vacuum Lift (VLS) hopper when running out compared to a traditional screw elevator would leave 1 to 2 kg in the bottom of the hopper when disassembled for cleaning.
The KMG Flavour Vacuum Lift (VLS) is installed at high level and conveys batches of powder on demand. The conveyor can be demounted for cleaning. The ground level conical bulk hopper is mobile and manufactured from stainless steel. An out-of-balance motor is used to agitate the powder in the hopper. The motor can be fitted either to the side of the hopper unit (active) or to the static platform where the hopper can be docked (passive). Sanitary clamps are used for all fittings and pipework for ease of assembly and disassembly.
---
See where else we use the Flavour Vacuum Lift (VLS) Machine
Seasoning Systems with the Flavour Vacuum Lift (VLS)
---
Suitable products for the Flavour Vacuum Lift (VLS)
Related Applications