Weigher Feed conveyors are used to give manufacturers a controlled feed of product on to the multi-head weigher. KMG Systems design and manufacture weigher feed conveyors specifically for the food industry. With our 50 years of experience, we design our equipment to be hygienic, easy to clean and easy to maintain. We know that you will be operating to the highest hygiene standards and we take that into account with our designs.
Some of our machines are still in production 30 years after we supplied them. In fact, one of our recent graduates recently commented 'that machine is older than me!', and that comes as no surprise to us because we design our vibratory conveyors to be robust, reliable and long lasting. We manufacture all our equipment in house which gives us unrivalled control over quality and lead time. We pride ourselves on designing and manufacturing the best vibratory conveyors in the industry.
Different Product types
KMG Weigher feed conveyors use vibration at natural frequency to move bulk materials along a production line or into a process or machine. Typical bulk materials include snacks, cereals, confectionery, petfood, fresh and frozen produce. We know that all these food types have different conveying characteristics and we use our expertise to ensure that each weigher feeder is optimally specified for the unique requirements of your product. We take into account the bulk density of the conveyed product plus any special characteristic – is it sticky, dusty, dense, friable or brittle? We have the experience to incorporate ATEX and our in house control cabinets are all appropriately IP rated
Types of Weigher feed conveyor
Because we have our own in house design team, we have the flexibility to offer a variety of discharged ends. Some typical discharge ends would include:
Straight cut
Scarfed
Dished
Why would you want a different discharged end? Straight cut discharged ends are the standard and are suitable for all multihead weighers and most conveyed products. Scarfed ends are used when you are feeding a segmented multi-head weigher with several feeders. A dished end would be ideal if your product is particularly free flowing, for example chocolate flake, pellets, lentils or coffee beans, or for larger product like sausages, in order to optimise feed onto the weigher cone.
KMG offer stainless 304 surface finish as standard as this is a hygienic material which is suitable for the majority of food products. However, our expert sales team will sometimes recommend 316 stainless, typically if your product was particularly acidic for example fresh fruit or if your hygiene standards require a particularly stringent cleaning product. Our standard surface finish is bead blasted which offers an excellent conveying surface. We also offer rigidised trough finish for sticky food such as raw meat, or for product with a large surface area such as salad leaves. We can also offer 2B finish if required.
Blending and Mixing
We've observed that blended and mixed finished products are trending at the moment and you can use KMG weigher feed conveyors to easily and efficiently automate this process. We will design a mini system including steelwork and then supply and install multiple units, with nesting scarfed discharge ends to fit a segmented weigher. KMG can configure your system to include a small buffer at the infeed of each weigher feed conveyor. We would off this in order provide short term in-line storage and thus ensure a smooth flow to the multi-head weigher. Read here to find out a little more about storage.
Vibratory Conveyors
KMG vibratory conveyors run at natural frequency which means that they use less energy than a traditional lightbulb. We take gentle product handling very seriously and have optimized the power profile of our drivers to provide the gentlest possible forward movement. KMG's IP67 rated electro-magnetic magnets are fully welded using the latest laser welding technology which ensures maximum power and the longest possible lifetime; even in hostile washdown environment.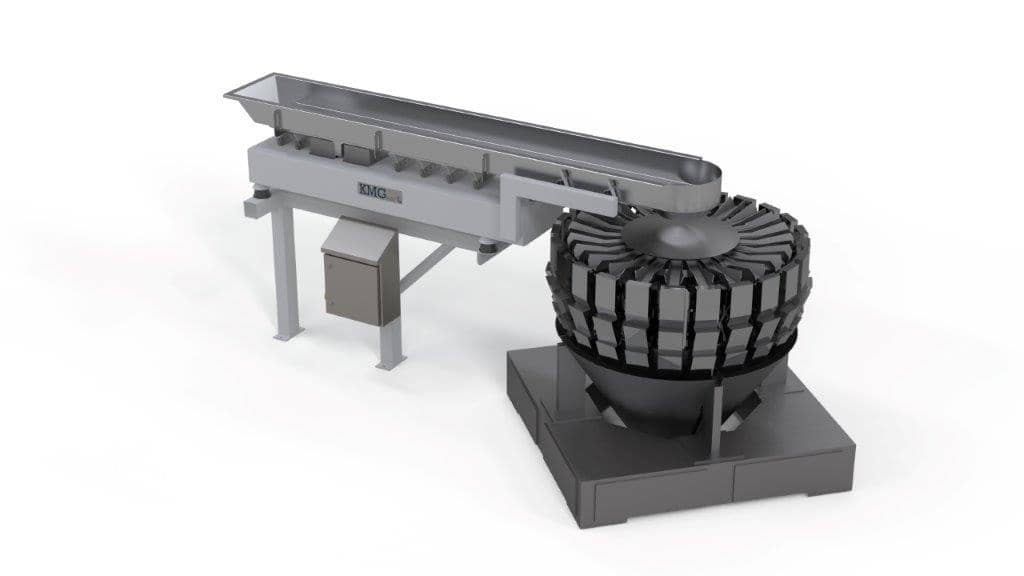 Which multi-head weigher?
KMG don't manufacture a multi-head weigher – our weigher feed conveyors are designed to integrate seamlessly with all the multi-head weighers currently on the market. We take the 4-20mA signal from the weigher and use that to control our weigher feed conveyors. We do however, write all our controls software in house giving you unrivalled control over your production line. Whether we are supplying a single weigher feed conveyor or a full turnkey system, we still design and construct the electrical infrastructure and programs logic control and operator interfaces using in house developed philosophy. This enables the efficient integration of all the disparate components of a production line.