This year KMG is celebrating 50 years since our founder, Keith Maddocks, sold his first machine. Its been an eventful 50 years and we are celebrating with a number of social events for both customers and for current and former employees.
KMG Firsts – some headline firsts include:
1973 Keith designed and sold the first hydraulic machine to McCain, Scarborough. The hydraulic machine was designed to be robust, reliable and powerful.
1978 First distribution system sold to Kelloggs, Wrexham. We were conveying bran flakes (bulk density 30lb/ft3) at 900lb/hr; the systems was entirely controlled by relays.
1984 50+ machine distribution system sold to Smiths Crisps, Peterlee with controls moving away from relays to plcs. We have written all our control software in house since 1984 and we work with our customers to optimise their systems.
1986 The first OMS System developed and supplied to Hunter Foods, Corby. The conveyed product was crisps with a bulk density of 55 kg/m3 and a flow rate of 405kg/hr. KMG's OMS System is the most accurate and reliable in the snacks industry.
1991 EMC2, the first electromagnetically driven machine, launched. These have the benefit of being powerful, low energy, gentle and hygienic.
2003 Supplied Walkers Leycroft Line 3, then the biggest crisp factory in Europe
2000 Patented FlowWeigherTM launched. The KMG FlowWeigherTM is designed to cleanly and accurately control seasoning application rates
2007 Supplied the first UK and European Bakes Lines
2012 KMG Liquid Spray Unit launched. Another industry first, the LSU operates airlessly and produces a consistent spray pattern over a wide turn down ratio and is the accepted industry leader.
2020 Fully waterproof, laser welded, electromagnet launched
KMG Growth
In 1982 the business was sufficiently well established to enable it to buy out the freehold on the original factory at Station Road in Gamlingay. The business gradually extended across units 2 – 5 and then in 1988 we bought the farmland land behind the units and built new offices and the first factory extension, at a whopping 12,540 sq ft. This factory had a higher roof and two 3.5tonne gantry cranes. The business continued to expand and in 1995 we bought more land a built a second factory extension, slightly larger than the first at 14,526 sq ft. With ongoing success, we needed more space for designers, project managers and automation team so we built a state of the art office and a comfortable canteen in 2004.
KMG's customers increasingly valued the opportunities presented by our complete pre-build service. We design the full system, including mezzanine steelwork, stairs and handrail and build this up in our factory to allow customers to visit and plan their installation. We recognised that we needed a taller building for some of these large pre-builds so in 2012 we bought yet another slice of land and added on a 19,691 sq ft extension with an extra 3m headroom.
Despite Covid, 2020 was a busy year. We bought a second building in the nearby town of Biggleswade and quickly got it into production. In the meantime, over in Gamlingay, work was progressing on another extension – this time a modernised paint shop, stores, and extra offices bringing the total Gamlingay site 10,000m2.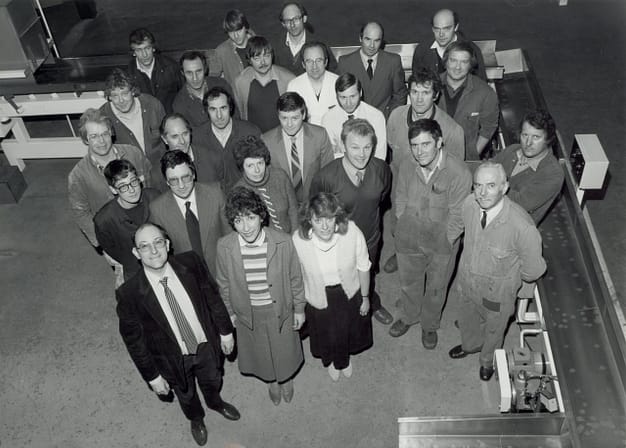 Here is a photograph from the early days showing the directors, designers, project manager, sales manager and the rest of the team all standing proudly in our old demo area next to a hydraulically operated distribution system. At least 3 of the people in the image are still at KMG. Its funny to see so many people wearing shirts and ties, nowadays we all wear polo shirts.